Books Every Aussie Kid Should Read
A great children's book can leave a lasting impression on the minds of young girls and boys. To help your kids fall in love with literature, we've compiled a list of recommendations they'll be sure to have a ball reading, including a mix of great Aussie classics and some new page-turners.
Storm Boy
Written by Colin Thiele
For ages 8+
You simply can't go past Storm Boy when searching for an Aussie classic to share with your kids. In fact, you probably have plenty of fond memories of Mike and Mr Percival from your own childhood. Set in the sandy South Australian Coorong, this classic tells the tale of unusual friendship and unconditional love as a young boy navigates the conflict between his remote lifestyle and the external pressures of society.
Next Door's Dog is a Therapy Dog
Written by Gina Dawson, illustrated by Vivienne Da Silva
For ages 3+
This book is part of the beautiful Next Door's Dog series, which teaches children about the role of working dogs in society, and the importance of having the right dog for the job. This book features Monty the therapy dog and follows his journey with Leah and her Nan as they visit people who are unwell to make their day better!
Charlie's Shell
by Marina Zlatanova
For ages 3+
This is a fun and endearing tale about a snail who is taunted for having a shell. In an attempt to fit in, he decides to do away with his shell and live a life of shell-less adventure. However, Charlie the snail soon realises that life outside of his shell isn't all it's cracked up to be, and soon returns to his shell with a newfound appreciation for his unique self. The message? To appreciate the shell you're in!
A Flair for Hair
Written by Bilyana Di Costanzo, illustrated by Mauro Di Costanzo
For ages 3+
A Flair for Hair is a humorous storybook complete with fantastic illustrations showing modern hairstyles on caricature-style animals. If you're looking to have a good laugh with your kids, this book will do just that!
The Institute of Fantastical Inventions II: Magnetic Attraction
Written by Dave Leys, illustrated by Shane Ogilvie
For ages 10+
This book is the perfect literary adventure for pre-teen boys and girls alike. The story centres on Leo McGuffin, an inventor at the Institute of Fantastical Inventions (IFI) where he keeps busy by creating gizmos and gadgets to bring the whims, wishes and wildest dreams of ordinary people to life. Chaos and plot twists ensue, including a heroic fight against a robotic takeover, and Edward's hopeless endeavour to get Isabella to notice him.
The Boy Who Burped
By Felicity McVay and Caroline Seltz
For ages 3+
This is a charming and funny tale about a little boy named Barnaby Glurp who loves to burp! Complete with gorgeous illustrations, rhyme and alliteration. This book is perfect if you have young children who are in the phase of being obsessed with all things gross.
---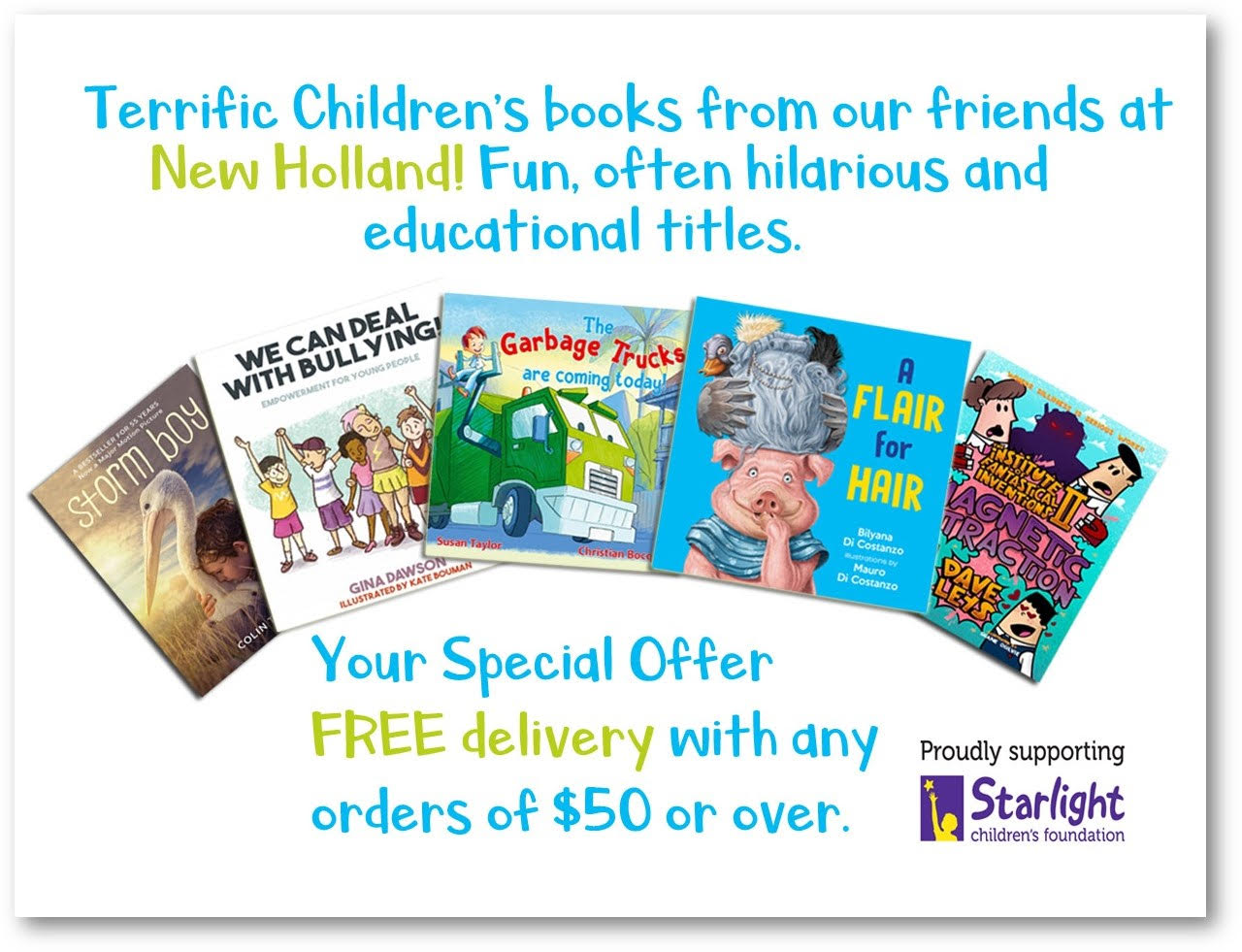 To check out any of the books mentioned in this article, head on over to New Holland Publishers for a great range of Australian children's books. Babysits users who purchase any children's books to the value of $50.00 or more will receive FREE delivery within Australia, a saving of over $9.90 off your order! Use discount code 'babysits' at checkout to redeem your discount!
Did you enjoy this article? Take a look at our other Community Resources for more tips for parents and babysitters, as well as tons of great DIYs and activity ideas for kids!